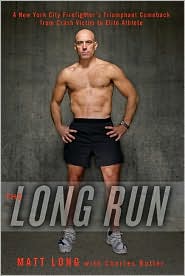 Been listening to a riveting audiobook entitled "Long Run" about New York City firefighter Matt Long and his epic Phoenix from the ashes tale.
Matt, a successful marathon runner and Ironman distance triathlete, was riding his bicycle to work when he was hit and run over by a city bus. From that point forward, it got graphic.
The seat post of Matt's bike went up through his anus and out his stomach. Bones were crushed and broken. Sixty units of blood later, Matt was given a 5% chance of living. His three year journey back is a combination of wonder and miracle.
I don't want to give away the detail, but Matt climbs back ever so slowly from the devastating injuries. Many of his rehab stories might make one giggle a bit in embarrassment, but there's really nothing funny about having your rear end rebuilt over many successive surgeries.
His book toggles back and forth from his period of recovery and other prior moments in his life. He was on the scene as a firefighter after the 9/11 attack and this rendition is especially moving.
I experienced some bursts of emotion while listening, especially the section where Matt first takes some fitful steps, then runs his first mile. There was some correlation to my own experience with Guillain-Barre in 1993, when I suffered complete paralysis. I can remember when those first steps came and when I made the bold statement I was coming back to run another 50 mile That's when a nurse told me I'd be lucky to be in a walker much less running.
Matt fights back to run marathons, I came back to run ultras. God is good and when you've been really low, the only place to go in life is up - to a better place.
Take a listen or read the "Long Run." Good stuff and good inspiration.