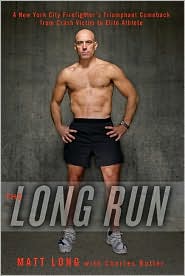 Sometimes I need to process a big chunk of information, digest it over time, then decide what meaning it possesses.
In the case of Matt Long and "The Long Run" it is this: Long is a better athlete and master competitor than I will ever be. He has raced in a bigger arena of life and came out the other side wearing confidence and bravado. And, it's in a humble way. Transparency can sometimes hurt. Matt hurts all over, physically and mentally, but has opted to carry forward with positive plans and goals. He's now the force behind the "I Will" fundraising org that helps others like himself.
When I succumbed to Guillain-Barre, it was a really bad deal. Total paralysis, loss of ability to breath and swallow and intense phantom pain from my nerve system deciding to cannibalize itself. But months later I did recover and did run again. My only residual was a bit of balance loss.
In contrast, Matt's horrific accident left him partially recovered. His internal injuries created daily digestive problems and externally, he has a leg length discrepancy and other running gait and swimming stroke issues. When Matt finally returned to the New York City Marathon, it was as an Achilles Track Club member, a highly renowned group for disabled runners.
I don't know if I am as strong as Matt, or could ever be. My test in life was not as great. We need to step back on occasion and realize that in the hierarchy of sport and performance, some will loom bigger than ourselves.