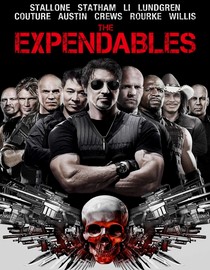 Any of you like the action/fighting/heavy weapons/martial arts films?

Check out this movie synopsis I just pulled off Netflix:

The Expendables(2010)

NR Barney (Sylvester Stallone) leads a ragtag band of hired guns charged with overthrowing a South American despot, a job no official military unit is willing to touch. But once on the ground, the team learns there's more to the mission than they were told. Their next move determines whether they survive -- or are, indeed, expendable.

Jason Statham,

Mickey Rourke,

Dolph Lundgren

and

Jet Li

round out a stellar cast.

What a date night flick...and all my action heroes in one bloody setting!