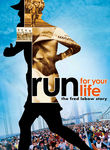 Just finished watching an entertaining documentary on New York Marathon founder Fred
Lebow
. The man was a visionary who also played missionary in bringing average runners into the sport and into marathon competition.
If you have
Netflix
, you can view this movie online. Much of it entails the running boom of the 1970's. The initial New York City Marathon was conducted in Central Park, but the transition to the five boroughs of New York came as part of the United States Bicentennial in 1976.
There's much to be said, both positive and negative, about
Lebow
. But he was loved by those around him, many friends and business associates alike. Fred loved the sport and called the New York Marathon his child (he never married or had children).
Lebow
succumbed to brain cancer in 1996, but not before completing the NYC Marathon in 1994. He was finally able to run in the race he had created.
I was fortunate to have run in the New York Marathon in 1987. And, I met
Lebow
and sat at lunch with him during a sponsorship conference in Chicago, not long before he passed away.
There is a saying that states that in order to know where you're going, you have to know where you've been. This documentary was a great look back, to see the emergence of the sport of marathon running. I am glad my life was intertwined with the sport. So many memories and the
camaraderie
of running has made me who I am today.